Social Media
Threads, the Text-Based Social Media App, is Live
Threads exemplifies Meta's commitment to enhancing user experience, fostering online communities, and pioneering social media innovations.

Instagram's highly-anticipated social media app, Threads, is set to make waves in the microblogging sphere, hitting the ground running a day ahead of its scheduled launch. This new addition to the Meta family is now accessible to users in over 100 countries and boasts an interface designed to give Twitter a run for its money.
Threads, launched Wednesday evening, lets users sign up directly from their existing Instagram accounts. As the app is poised to go global, the potential user base could surpass 2 billion monthly active users, given Instagram's robust user statistics. Instagram's chief, Adam Mosseri, paints a picture of Threads' functionality, stating, "Threads is for public conversations. We're hoping to bring some of what we've built for photos and videos on Instagram to Threads with text."
Unlike its photo-centric sister app, Instagram, Threads focuses on short-form text limited to 500 characters per post, creating a more concise and digestible feed. Users can still incorporate individual or carousel photos and videos into their posts, adding a familiar element to this new platform. The content shown is from accounts the user follows, supplemented by creator suggestions curated by the platform's recommendation algorithm. Interactions on the platform are much like those on Instagram, with the ability to like, comment, repost, and even quote a post. Users can also share posts to their Instagram story or feed, reinforcing the connectivity between the two apps.
The design aesthetics of Threads clearly echo Instagram's user interface, sporting identical heart, comment, and share buttons along with similarly placed tabs. The resemblance allows for a more seamless transition for Instagram users and infuses a sense of familiarity into the novel platform.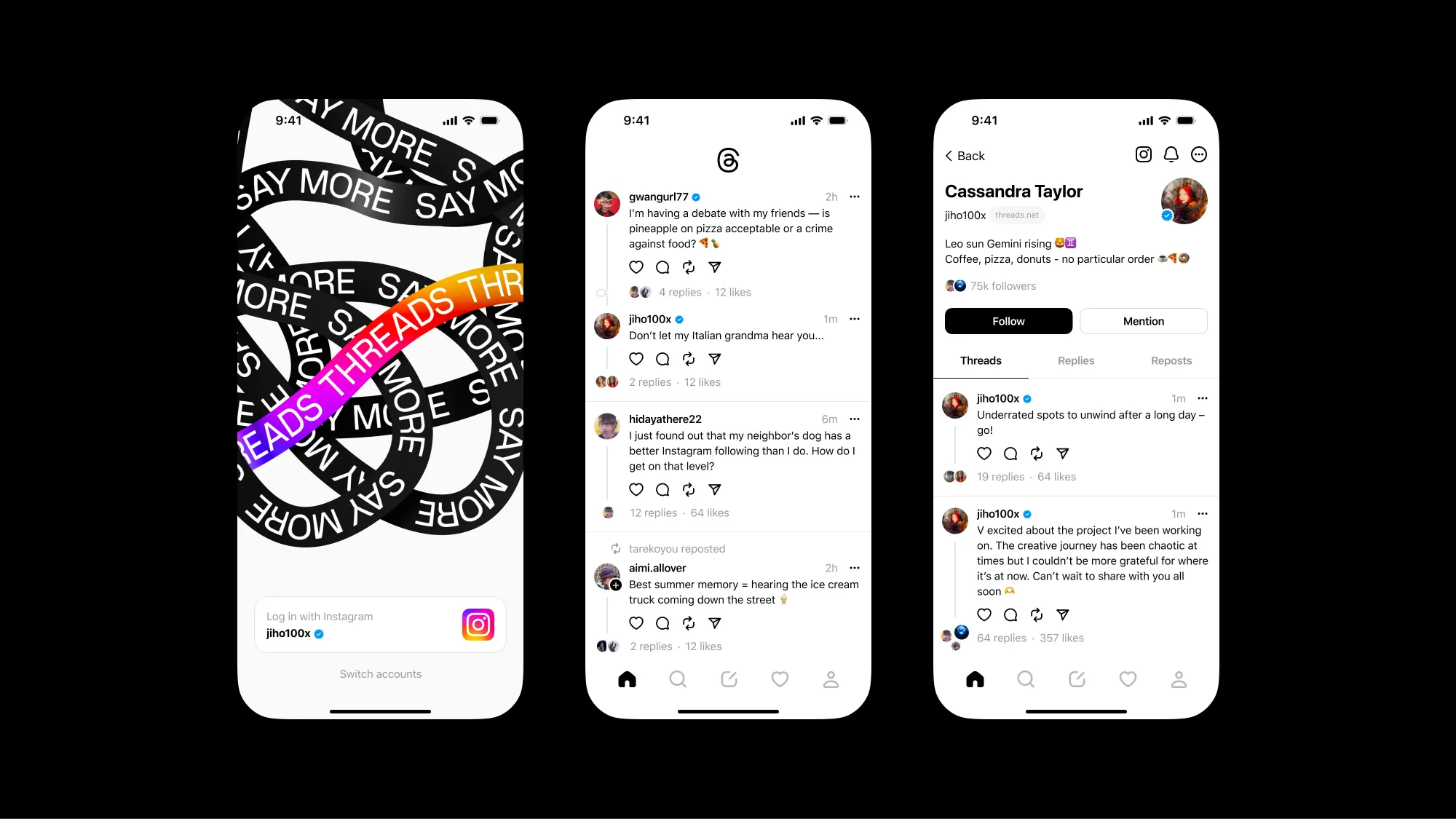 An interesting aspect of the sign-up process is that users must retain their Instagram usernames, but have the freedom to craft a different bio and profile link. Verified Instagram users can also bring their coveted blue check marks to Threads, maintaining their verified status. To facilitate the migration process, users have the option to bulk follow all accounts they already track on Instagram, including accounts not yet present on Threads.
Threads automatically blocks any accounts that the user has previously blocked on Instagram, offering a continuity in the user experience. Furthermore, users have control over their interactions on the platform. They can choose to limit replies to everyone, accounts they follow, or mentions only. They can also decide if they wish to restrict mentions of their account to followers only or disallow them entirely.
Committed to maintaining a safe and respectful environment, Instagram's community guidelines will be strictly enforced on Threads. Users can report violations and, much like Twitter, have the option to hide specific words or phrases from their feeds.
A standout feature in the pipeline is Threads' compatibility with ActivityPub, a decentralized social networking protocol. Once implemented, it would enable interaction with other platforms that also support ActivityPub, such as Mastodon and WordPress. This interoperability could lead to cross-platform connections, an innovative concept not seen in many current social apps. Essentially, a user's feed on Threads could feature posts and accounts from these other platforms, allowing them to interact without switching apps.
While Threads has made a promising start, Meta has teased the introduction of more features such as direct messaging, trending topics, and an "improved" search function. For now, however, the app is not available in the European Union.
Threads exemplifies Meta's commitment to enhancing user experience, fostering online communities, and pioneering social media innovations. With its early release and enticing features, Threads sets the stage for a significant shake-up in the microblogging sphere, challenging existing giants and offering users a new way to share, connect, and communicate.